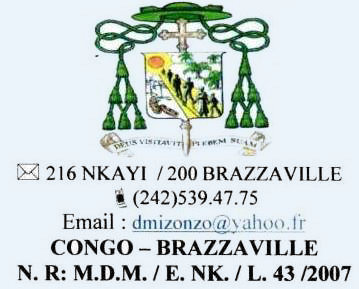 To: Mrs. Cettina Marraffa
President of de Apostolic Movement
Object: Acknowledgement and Approval


Mrs.,

with the present I declare having just received your February 2007 letter that mentioned the project of including the Apostolic Movement (which you have the assignment of presiding), in the Nkayi diocese (Congo – Brazzaville) which I am the Particular Bishop.

At the time of my visit in Rome this winter 2007, I met Father Francesco Antonio BRUNO of the Apostolic Movement, with whom we had a friendly talk during which I was amply informed on the Charisma, the Spirituality and the Catechesis Model of the Movement.

After having consulted with the Presbyterian Council and the College of Advisers, considered that our Diocese is in need, for what concerns the reorganization of the Catechesis; and taken into consideration the Pastoral Activities of the Movement and that is: the Announcement and Listening of the Word of God, the celebration of the Sacraments and of the Liturgy, the communion among brothers and sisters and with the Hierarchy, the Witness of life and Mission; I canonically acknowledge the Movement and give my approval for the insertion of the Apostolic Movement (Apostolate of lay persons) in the Nkayi Diocese.

Hoping all this will lead to the good end of collaboration, receive my paternal blessing.
In Christ!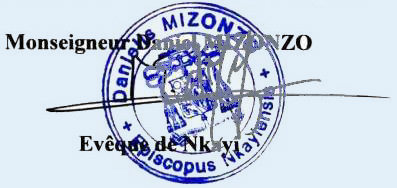 Nkayi, 25 march 2007
Solemnity of the Lord's Annunciation