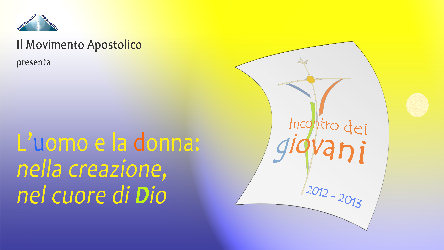 Man and woman: in creation, in the heart of God Youth Meeting 2012, 2013.



This project started from the proposal of a group of young people who live the spirituality of the Apostolic Movement to deepen the Christian formation on some complex issues of faith and morality with which everyone is confronted in everyday life. At each meeting the young people ask all their questions and reveal their doubts to Monsignor Costantino Di Bruno, central assistant of the Apostolic Movement who, with his persevering love in the Word, guides them along this journey of truth, helping them to strengthen themselves in their Christian identity.
This initiative, thanks also to the encouragement and support of our careful and persevering President Cettina Marraffa, was greeted with enthusiasm by many guys generating in their hearts a strong sense of responsibility in the mission of the Church.
The meetings are monthly and can be followed live
Next meeting
May 8, 2013, 18:30 p.m.
Theme of the meeting:
Man: body, soul and spirit
By the theologian Monsignor Costantino Di Bruno, Central Assistant of the Apostolic Movement.
For the preparation of the meeting:
We recommend:
- Letter of St. Paul to the Colossians
- First Epistle of St. Paul to Thessalonians

Follow live meetings

During the live meeting you can ask questions by sending an e-mail: direttamovapost@gmail.com